Business
Cyber-secure document management
Take control of your company's files with a Swedish cloud service. Work, store, share and collaborate on shared files anywhere, anytime, with full compliance.
Store, share and collaborate with files in a Swedish cloud.
Secure file sharing and storage
Storegate enables document storage and file sharing with both internal and external users. Our smart and user-friendly features such as version management, event log and the ability to work in teams through project folders and groups with permission levels help you stay focused on what's important.
Share documents internally and externally
With our built-in file sharing service, you can share documents online and send specific folders both internally and externally. Smart integration with Microsoft Teams and Outlook makes it easy to share information securely.
By creating a distribution link, you can send files to anyone and protect them with a password or BankID verification. Your information remains safe in our Swedish cloud service.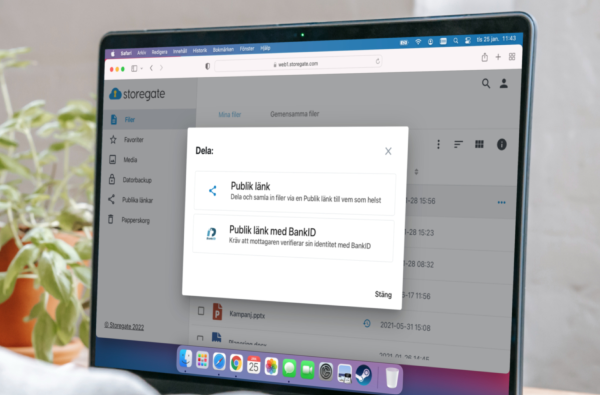 Storage in Sweden simplifies your work
Storegate is the complete cloud service for managing and saving files with GDPR compliance. With Storegate you can work with your files safely and securely in a Swedish cloud.
Our cloud service allows you to store files and documents containing personal data in a GDPR-secure way. You avoid the unnecessary hassle of managing sensitive information in a foreign cloud service.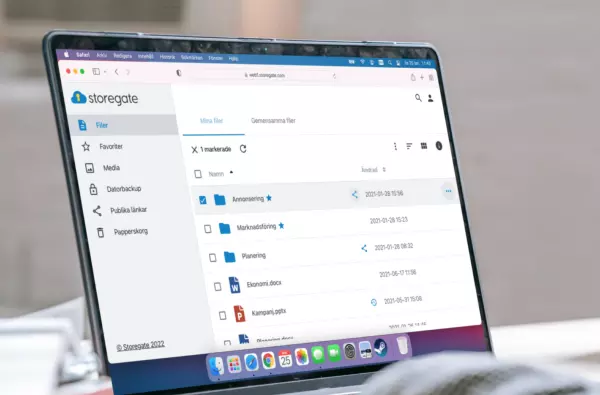 Book a free demo
We are happy to tell you more about how our Swedish cloud gives you full control over your files. Whether you are thinking about file storage, digital signing or collaboration in the cloud, we can help your business with a secure solution.

Work in Office and save your files in Sweden
Storegate does not have to replace your existing solution, you can use our Swedish cloud service as a complement to work in Office files GDPR-secure.
With the right technical adaptations and our secure Microsoft Office integration, you can create and edit Word, Excel or PowerPoint presentations directly in the service.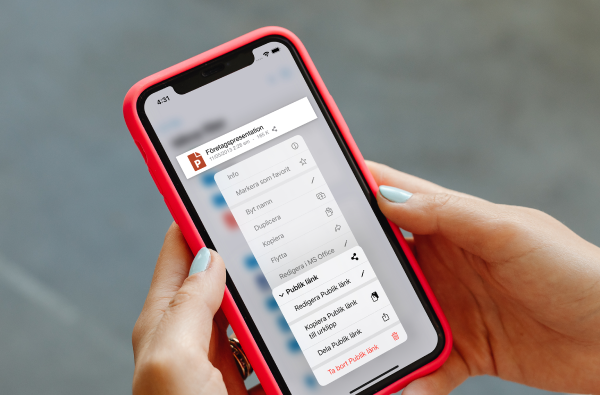 Secure cooperation regardless of location
Whether you prefer to work from home or the office, Storegate offers fast and secure access via web, mobile and desktop explorer.
By using Storegate to store and share files, individual employees and teams can easily and securely access and collaborate on documents wherever they are.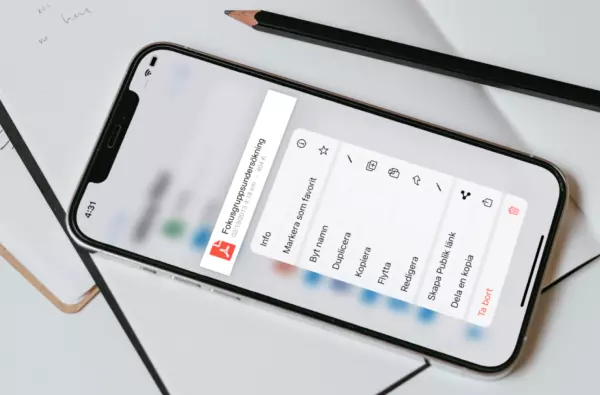 We needed a service that allowed people working in the organisation to easily share and access their information. As we have Mac, Windows, IOS and Android users, it was important to us that the service we chose was completely cross-platform.
- Kerstin Nensén, Office Manager at NetPort.
As a business customer, you'll get personalised help to find the right solution and get started with all our services. Our knowledge base makes it easy to find answers to common questions or get in touch with our support. We'd love to talk to you!
"Named Europe's best cloud service for Swedish businesses"
by IDG Techworld.
Storegate has been helping companies and authorities with secure cloud solutions since 2003
Safe storage of sensitive information
Storegate allows you to store even sensitive information, such as files and documents involving customer records, contracts, protocols and accounting, which is not appropriate in a foreign cloud service under the General Data Protection Regulation (GDPR). With Storegate, you avoid the uncertainty of foreign legislation and can focus on your core business.
A cost-effective cloud solution
Simplify the management of your company's information by gathering everything in one platform. With Storegate you can easily create a clear folder structure to organize your documents. In addition, you have the opportunity to share files securely through the function share files with BankID, automatic backup, digital signing and much more.
Storegate offers you a cost-effective solution that leaves your business less vulnerable to data loss. You get secure protection against ransomware, data loss, viruses and fire.
Secure data storage
With Storegate, all information is transmitted in encrypted form and stored on duplicated server environments in Swedish data centres with the highest security.
Stored files are only accessible to authorized users and the account holder retains sole ownership of the stored information.
The information that you or your company stores in our Swedish cloud is protected from exposure to foreign law.