Enterprise
We adapt our services to the needs of the company
One solution does not fit all, which is why Storegate's enterprise sales offer scalable Enterprise solutions based on your specific business needs. We meet your requirements and offer the solution that we jointly believe is best.
You get simple, secure and flexible cloud storage in a Swedish cloud.
A wide and flexible range of services
At Storegate, we also work with larger Enterprise solutions that help your business of any size with flexible cloud storage services.
We can provide the entire company or individual work areas such as marketing or purchasing with a simple and secure solution to store, share, back up and collaborate on documents in a Swedish cloud.
Storegate has been working with cloud storage since 2003 and as a Swedish cloud service provider, we can advise and partner with you to help your business achieve proper compliance in the cloud.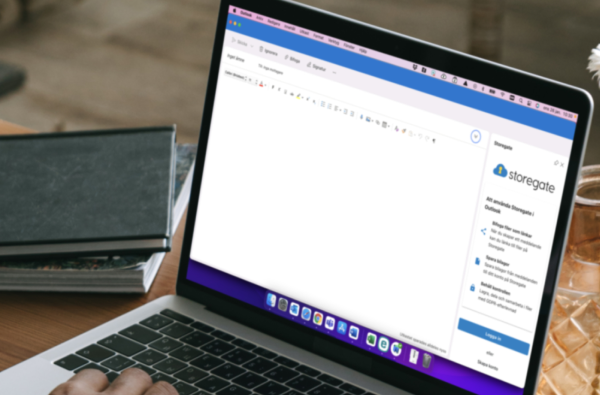 We soon realised when looking at different options that Storegate was the provider that could best meet the requirements we had made based on the Privacy Shield's invalidation and the General Data Protection Regulation (GDPR). In addition, the services are easy to use for both administrators and users.
- Michael Sanda, IT Manager at
Theft Prevention Association
Secure your business with a Swedish cloud
With extensive experience in cloud storage and a flexible API, we give your business the support it needs. Storegate is a Swedish company that stores all information within the borders of Sweden.
We have all our development in-house, which means that we can help with larger projects if special adaptations are needed with a Swedish cloud service. We offer different cloud storage solutions so you can get the amount of storage and security your organisation needs.
Our cloud services protect company files and make it easy for employees to manage files securely in a Swedish cloud. We help you save important information in accordance with the GDPR.
Benefits of SaaS
The development of "Software as a Service" (SaaS), our modern cloud service, enables us to offer you smart applications and functional clients over the internet.
We take care of all the technical aspects of the service and you can be sure to always have a well updated Swedish cloud service. You also avoid spending time and money on your own maintenance. We give your organisation the right conditions to create a functioning workplace.
Adaptable and reliable

Very accessible and user-friendly

Very cost effective

Always high security

Constantly updated with new features
Storage in Sweden under Swedish law
As a Swedish cloud service, we develop our own services and store all information in Sweden.
A Swedish-produced cloud service for larger Enterprise businesses in Sweden.
A proprietary platform
We have a flexible and unique platform developed by ourselves. It is called SOSA, which stands for "Storegate Online Storage Application".
One advantage of a proprietary platform is that we have full control over both the service and all the information stored in the cloud. A security that means we can guarantee high availability and scalability of our Swedish cloud service.
The platform has an API that can be used to integrate with internal systems or other external services. With SOSA, we can give you exactly what you want.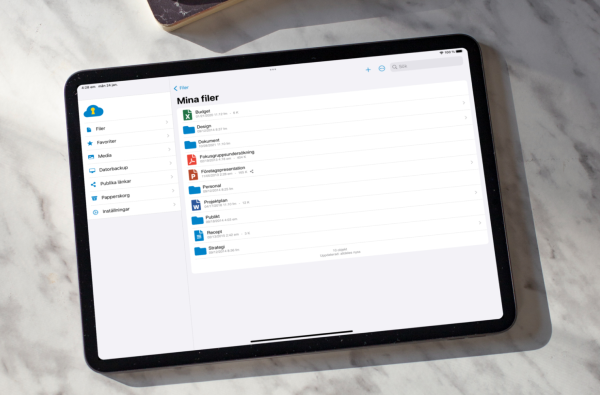 Keep control and set permissions
An organisation needs resources and time to develop. We give you the ability to scale services and users according to your business needs. A flexible Enterprise solution with administrative control that makes your employees more productive and gives you more time to do other things.
An account with us always has a responsible administrator. By assigning users roles such as sub-administrators or other read/write permissions, your organisation can easily and efficiently maintain control over who has access to what information.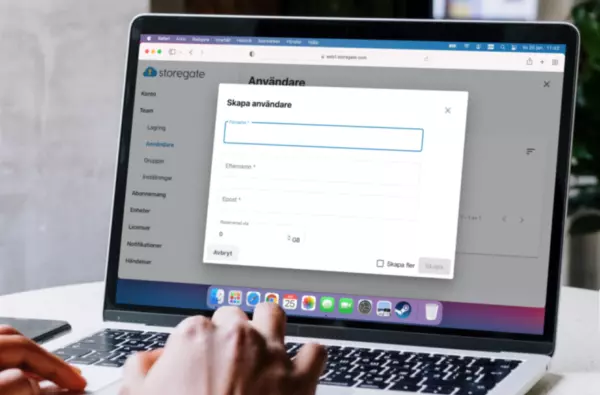 Working together
Working together across different units should be as easy as meeting in a conference room. No matter where your colleagues are in the world, accessing and sharing their work files on Storegate is always just as easy.
With our Swedish cloud service, all your company's files are in one place. Your colleagues can choose to sync personal files, access shared files directly in the cloud, back up their computer or use a mobile phone to share files, for example.
All employees can continue to work in the same software they are familiar with, but instead have access to all their information on Storegate via the Explorer/Finder on their computer .
Discover more smart features in the cloud:
100% protection against foreign legislation
The advantage of our Swedish cloud service is that all our development takes place on our own platform, which means that we have control over the entire process and can guarantee full privacy protection and support for the entire solution.
All the systems we use are located in Sweden and since Storegate is a Swedish company, all storage is regulated under Swedish law. This means that you as a Storegate customer get 100% protection against the US CLOUD Act and FISA 702.
Your organisation will have a much easier time complying with GDPR because you won't have to worry about the possible impact of foreign laws over time. With Storegate, your files and personal data stay within Sweden's borders.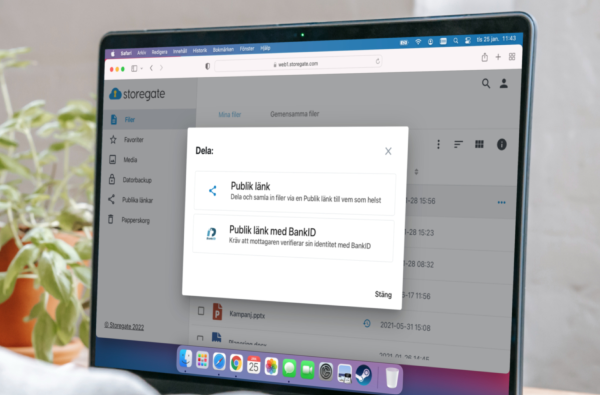 Support
As a business customer, you'll get personalised help to find the right solution and get started with all our services. Our knowledge base makes it easy to find answers to common questions or get in touch with our support. We'd love to talk to you!
"Named Europe's best cloud service for Swedish businesses"
by IDG Techworld.
All services under own brand
To make our cloud service more user-friendly and unique to your organisation, we can offer services under your company's own brand. We can customize our Swedish service to your organization's name, logo and create unique application icons according to your graphical profile.
With our powerful administration tool, you can also make changes to texts, images and phrases on the fly. You can also use your own domains and SSL certificates, specifically tailored for larger enterprise solutions.
Azure AD integration
Our goal is to make it secure and easy to store, share and collaborate with digital information in the cloud, both internally and externally. With Storegate, you can easily complement your existing cloud service with our Swedish cloud to get secure and legally compliant business data management.
If your organisation uses Microsoft's cloud-based identity and access management service (Azure AD), it can automatically activate and deactivate users and/or groups. Users can then easily log in with their regular AD account at Storegate.
Purchase Storegate through your existing IT partner
With technical expertise and a deep understanding of your business, we can help you find the best solution for your business.
Storegate has a broad partner network and close cooperation with the market's leading IT suppliers. Let us help you find the best solution for you!
Are you interested in Storegate? Contact us or contract Storegate with your IT partner or your existing framework agreement.