Server backup
Automatic backup of the company server
Protect your systems with flexible and fast recovery.
Customizable and secure server protection
Modern data protection
Storegate Server backup provides your business with a secure, all-in-one server backup and recovery solution for physical, virtual, and legacy systems. Because the program is flexible, you can have on-premise, cloud, and hybrid configurations. Overall, your business can quickly restore critical systems.
The software backs up open and locked files, databases, network disks, cloud services and other internal systems.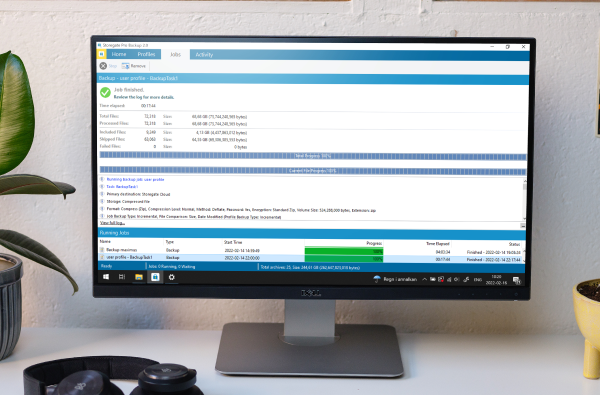 Server Backup
38,99 €
Per month
1 user
Reliable backup of your company's Windows server. Modern data protection that ensures current and future data is secured in a Swedish cloud.
Flexible and reliable backup
With Storegate's Server backup service, you get a powerful solution that backs up and protects your data for the most critical things that can happen to your business. No matter where you manage files and important customer data, you always get fast, flexible and reliable backup.
Version management
AES 256 encryption
Detailed logs
Configurable notifications
Backup reports
Powerful archive management and search functions
Full, incremental and differential backups
Trouble-free recovery of files
Modernise your data protection and secure your organisation's systems to a Swedish cloud. The backup server software handles all backups fully automatically and gives you multiple options for hassle-free recovery of information.
You can schedule the backup based on your needs and to save bandwidth and storage space, you can also decide whether the backup should be full, incremental or differential. That is, whether it will backup everything, what has incrementally changed since the last backup or what has changed since the last full backup.
Storage in Sweden under Swedish law
As a Swedish cloud service, we develop our own services and store all information in Sweden.
You get a secure and professional backup and archive system.
Always protected in a Swedish cloud
Invest in effective protection for all your data and reduce the risk of unnecessary data loss. Choose the level of security that best suits your business. Customize the backup based on what needs to be protected - the cloud, virtual and physical systems, or SaaS services. We'll help you keep your business up and running.
Ensures protection against ransomware, fire and data breaches
Several levels of high security
Continuous data protection
Immediate recovery of information
Analysis and continuous monitoring
Reduces costs and unnecessary inconvenience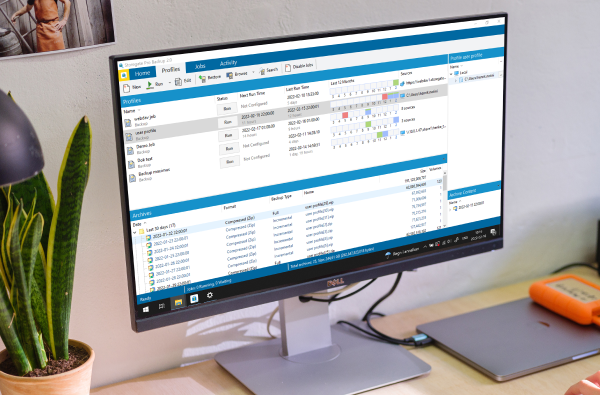 Support
As a business customer, you'll get personalised help to find the right solution and get started with all our services. Our knowledge base makes it easy to find answers to common questions or get in touch with our support. We'd love to talk to you!
"Named Europe's best cloud service for Swedish businesses"
by IDG Techworld.
Data stored in Sweden
With Storegate, you secure your company's data in Swedish data centers owned by Storegate. All the information stored in our Swedish cloud is encrypted and always stored on duplicated servers.
We make it possible for you to secure important information in Sweden, without sharing confidential information with unauthorised individuals or third countries.
Using our Swedish cloud service, you can easily comply with laws such as GDPR and OSL (Public Access and Secrecy Act). Storegate simply makes it easy for you to do the right thing.
System requirements
Windows 11/10/8.1/8 - 32/64bit (all editions)
Windows Server 2022/2019/2016/2012R2/2012/2008R2 (all releases)
Hard drive with at least 200MB of free space
Connecting to the Internet
Read more in our FAQ
Get started with Storegate Server backup now!
| | Backup server |
| --- | --- |
| Basic functions | |
| Storage space | From 200 GB |
| Users | 1 |
| Configurable backup profiles | |
| Automatic cleaning of backups | |
| Backup of local disks, network disks and WebDAV servers | |
| Backup of databases such as Microsoft SQL Server and MySQL | |
| Backup of application data | |
| Full, incremental and differential backup | |
| Backup via command prompt | |
| Manages open files with Volume Shadow Copy | |
| Plugins to facilitate backup | |
| Include and exclude filters | |
| Built-in scheduling | |
| Calendar view for backup overview | |
| Compression with Zip and 7z format | |
| Encryption with AES256, AES128 or Zip standard | |
| Selective or full reset | |
| Powerful archive management and search functions | |
| Detailed logging | |
| Log to file | |
| Log via email | |
| Logging to Windows logbook | |
| Security | Backup server |
| Encryption | |
| Version management | |
| Storage in Sweden | |
| Supports GDPR | |
| Support | Backup server |
| Support | |