Digital signing
E-signing with eID
Storegate provides all levels of electronic signatures recognized by eIDAS. Sign documents, contracts and other confidential information in a legal, compliant and secure way.
Digital signing with Storegate's Swedish cloud service.
Efficient e-signing tool
Say goodbye to unsafe manual paperwork and time-consuming handling of physical signatures. With Storegate Signing, you can send and sign sales contracts, invoices or supplier agreements virtually from anywhere.
Documents signed with a Storegate electronic signature are legally binding and valid throughout the EU and the rest of the world. Secure your signing processes within Sweden's borders and 100% digitally.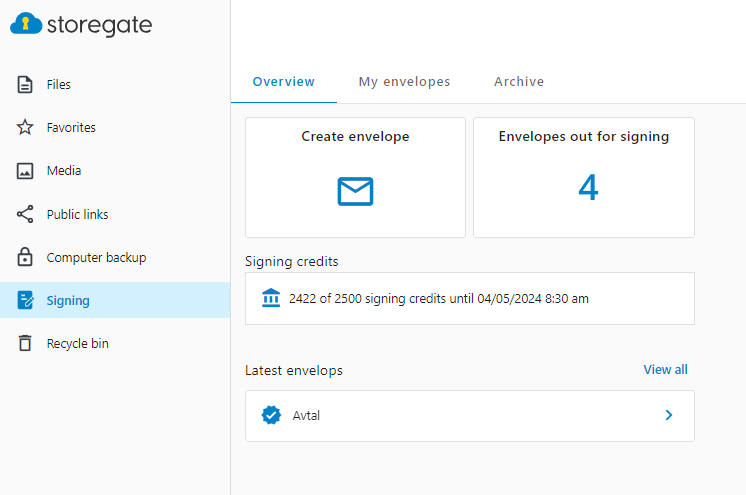 Major Gate Signing
199 SEK
Per month
1 user
Secure and cost-effective digital signing that meets the requirements of the EU eIDAS Regulation for advanced signing.
120 signatures/year (increase as needed)
1 GB of storage space
Automatic export to your computer
Storage of files in Sweden
Support
Easy to get started
Upload or download documents, add recipients and send your agreement for signature. Let your customers sign with a digital signature or BankID. It's easy to get started, no matter what device you use.
Already a Storegat customer? Activate Digital Signing when you are logged in via the web interface or contact us for more information.
Why Storegate Signing?
Our digital signature service, also called electronic signature or e-signature, like all our other services, complies with the General Data Protection Regulation (GDPR).
The service meets the requirements of the EU's eIDAS Regulation for advanced signing, which is required, for example, for signing confidentiality agreements or submitting annual reports digitally.
All contracts receive qualified signatures with a time stamp for long-term archiving (LTV) in PAdES (PDF Advanced Electronic Signatures) format. The certificate that seals the documents can be found on the EUTL (European Union Trusted List) and the AATL (Adobe Approved Trusted List).
Create an envelope
Upload documents to be signed
Select envelope settings
Add signatories
Review and send
Everything you need to sign digitally
Fast, easy and secure
Once you've received a signing invitation and experienced how smooth and easy it is, you won't want to manually administer paper again. Now you can automate the entire flow online and not worry about mishandling sensitive information.
With a Swedish signing solution, it's easy for you and your customers to sign documents with full compliance.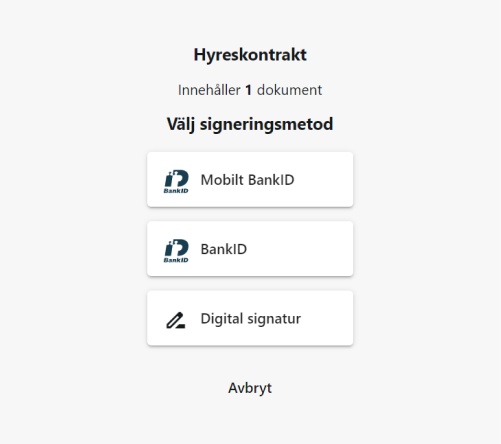 Storage in Sweden under Swedish law
As a Swedish cloud service, we develop our own services and store all information in Sweden.
Compatible with mobile devices
Sign documents and contracts directly from your mobile or browser.
User-friendly
Easy-to-use web interface for storing files and signing documents digitally.
Simple digital signature
A personalised and hand-drawn digital signature with a time stamp.
Advanced signature
Use your personal BankID and secure your signature with eID.
Qualified Signature (QES)
Log in to the envelope and sign confidentiality agreements and documents with enhanced security levels.
Signature scheme
Set the order of signatures. Everyone needs to complete their part before the signature cycle moves on to the next step.
Automatic reminder
If the recipient has not signed the documents, an automatic reminder is sent 24 hours before the deadline.
Unlimited number of documents
Save as many PDF files as you want and send unlimited documents for signing in a single envelope.
Archiving
The signed documents are approved for long-term archiving in PAdES (PDF Advanced Electronic Signatures) format.
Brand awareness
Customise your Storegate account with the brand logo and display your company when using the service.
Trust service providers
Trusts signatures to a Trust Service Provider (TSP) that falls under EU eIDAS legislation.
Safety and compliance
All information stored at Storegate is stored and protected in Swedish data warehouses, which makes it easy for you to comply with GDPR.