Mobile apps
Storegate directly on your mobile
With the Storegate mobile and tablet app, you can manage, edit and share files to anyone, anytime.
Access all your information wherever you are with mobile apps.
Work anywhere with the Storegate app
With Storegate's free app, you can work and access your files directly on your mobile. You'll always have access to the latest saved information and can easily share files while on the go.
The app keeps your files close at hand. You can collaborate with colleagues, edit documents and scan receipts or other important papers directly into your Storegate account.
The app gives you easy access to your Swedish cloud service on both your phone and tablet. Download the Storegate app via Appstore or Google Play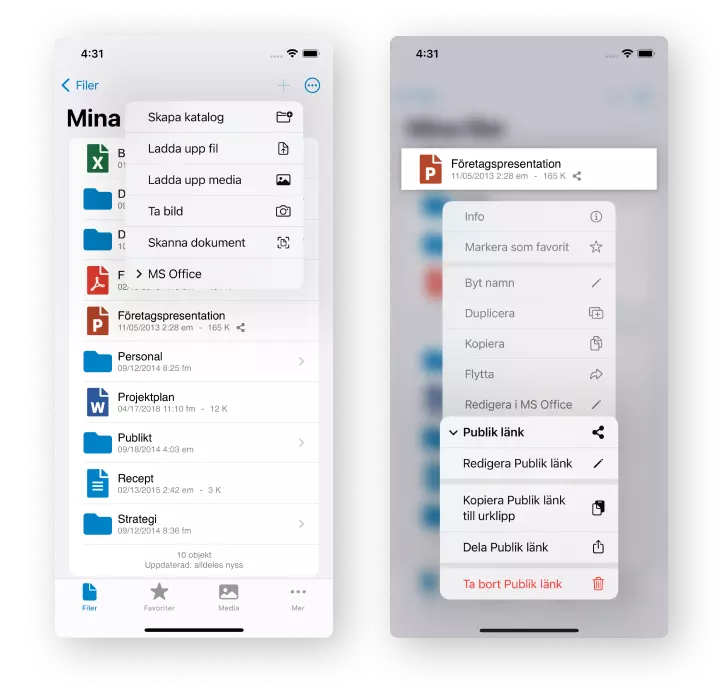 Storage in Sweden under Swedish law
As a Swedish cloud service, we develop our own services and store all information in Sweden.
Fast and secure access
Whether you use Storegate as an individual or in your business, you always have fast and secure access to stored information via our mobile app.
You can feel confident with automatic camera upload of photos and videos from your tablet or mobile. Backing up your files, photos and videos to a Swedish cloud service is a good and cheap insurance in case your phone is lost or your computer breaks down.
We simplify your work and with the app you can always perform tasks via both mobile and tablet. Get started and be sure to save important documents or memories to the cloud.
Smart features in the app:
Scan and save contracts, receipts or other important information to your account
View, create and edit Office documents
Create folders and organize content
Enable automatic camera upload
Share files and folders with or without password and BankID verification
Access your favourites