Private
Storage for you and the whole family
Take care of what you hold dear. Store important documents and photos safely and securely in a Swedish cloud service. Organise your memories in photo albums and share the moments with family or friends. It's both easy and fun. At Storegate, your memories stay yours
Everything you need to securely store documents and images online in a Swedish cloud.
Store files via web interface and app
You store and access all information via the Storegate web interface or via the Storegate app for mobile and tablet.
The web interface allows you to easily store information via drag and drop. You can also organise your information, create photo albums and share information with friends and family.
When you download the Storegate app to your mobile, you can choose to automatically back up all your photos on your phone to Storegate. Once that's done, you can access all your mobile photos via the web interface as well. Most importantly, all your photos are safely stored in case of an accident.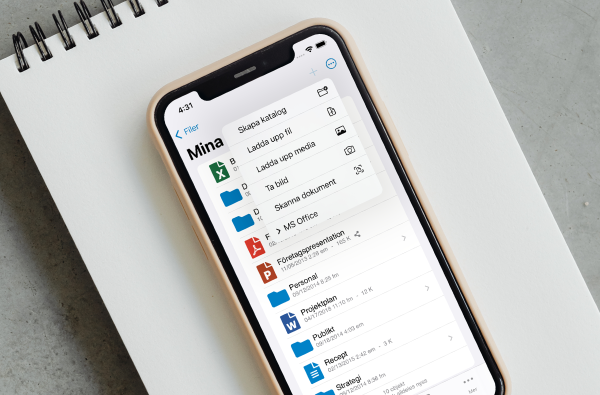 App for backing up photos and videos
Storing your most important photos in the cloud is a good and easy way to ensure that all your memories are preserved even if your phone is lost or broken. With Storegate, you can store what you hold dear and rediscover wonderful holiday trips or happy birthdays at any time.
With the Storegate app, you get automatic camera upload of your photos and videos to your tablet or mobile. The images end up safely stored in a Swedish cloud. By storing photos in the cloud, you can always rely on your photos being stored with the highest security.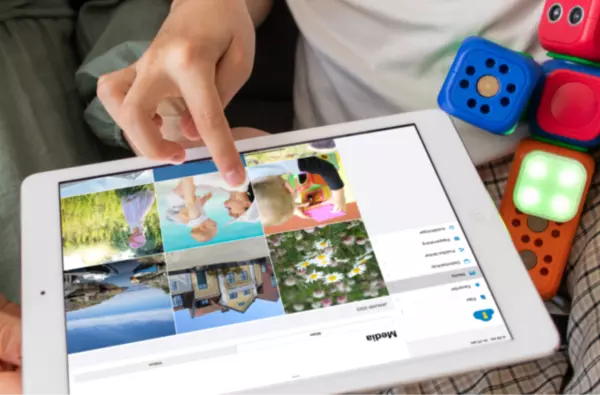 So nice to have all the pictures from your phone backed up. Really like Storegate and their Swedish cloud, it feels safe. Extra plus for the scanner so you can scan receipts and save. Fantastic!
- Sofie Eklund
Create photo albums and save photos to the cloud
At Storegate, you can save files and images from both your computer and your mobile. You can also easily create photo albums to organise your saved photos on the web. The great thing is that you can select photos from different folders and times to the same album. Once you've created a photo album, you can share it with family and friends.
We always protect the information you have saved. Your photos are always preserved in their original size and image quality. Any image or file you store in the cloud will not be accessible by anyone other than yourself or the family members with whom you share your lovely albums.
Share and collect photos
You can easily share images and collect photos from weddings, graduation parties or company parties. Of course, you can also collect other files and documents by creating sharing links from your Storegate account.
With our Swedish cloud service, you can send photos of your children to grandparents safely and easily. If you want to password-protect your shared files, folders or photos so that no other unauthorised person can access them, you can also do this with our service.
You can send files or photos to anyone, the recipient does not need to have a Storegate account.
Safe Swedish storage
All your information that you save with us is transmitted in encrypted form and stored on duplicated server environments in Swedish data centers with the highest security. Your files are accessible only to you, and you retain sole ownership of the stored information.
Through our knowledge base, you can easily find the answers to the most common questions all by yourself. You can also get in direct contact with our support staff via email.
Backing up your computer
With Storegate Private Account, you can always back up your or your family's computers. By backing up your various devices to our Swedish cloud service, your photos and documents are safe in case of an accident.
You always have access to your stored files via both the web and the mobile app.
Scan documents and images
Our mobile app allows you to easily scan receipts, bills or other important documents that you want to store in the cloud. You can easily and quickly access the document scanner directly from the home screen of your phone or from the menu inside the app.
All your scanned documents are saved as PDF files and stored in Sweden.
Support
You'll get personalised help to find the right solution and get started with all our services. Our knowledge base makes it easy to find answers to common questions or get in touch with our support team. We'd love to talk to you!
"Named Europe's best cloud service for Swedish businesses"
by IDG Techworld.
Storegate's mobile app
You and your family can access stored files directly from your phone and get automatic camera uploads of your phone's photos and videos.
The Storegate mobile app is available for free on the Appstore or Google Play. It's easy to get started and gives you instant access to your Swedish cloud service.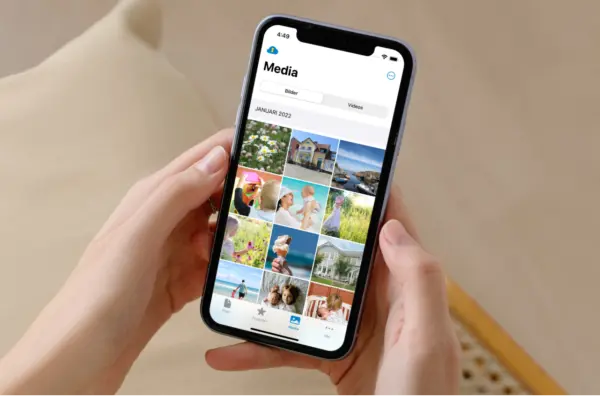 More than 150,000 have already activated a private account. Do it yourself!
Try for 14 days
0 kr
A user
250 GB
Private
7,99 €/month
A user
From 250 GB
Family
15,99 €/month
From 5 family members
From 500 GB