File submission
Receive and collect files
Regardless of file size, you can easily collect files and documents into your cloud storage space. You remain in control and can control who has access to the folder and permission to upload information.
Collect contracts, minutes, quotations and other important documents securely.
Allow upload in folder
Do you need a tool to collect files from others safely and easily? With Storegate, you can easily collect files without the recipient having to install any software.
By sharing a folder via Storegate, you can allow the recipient to upload files to the folder. If you want to send the shared link to several people, you can also choose to hide all the contents of the folder. This way, no one but you can see what has been uploaded to your share so far.
Of course, you can also set a password on the folder and receive an email every time someone uploads. In our Swedish cloud, you are in control and you decide what settings you want on the shared link.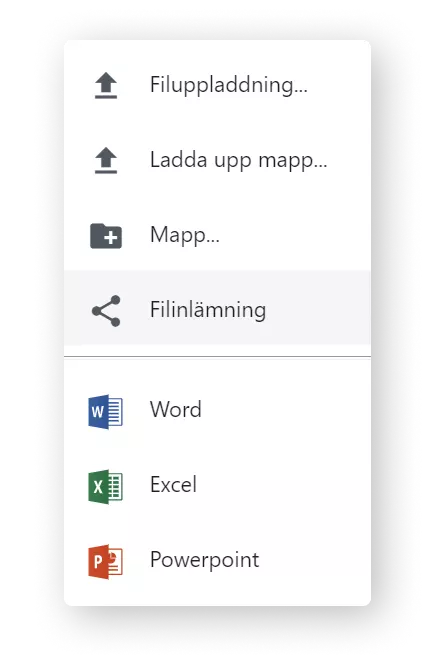 Storage in Sweden under Swedish law
As a Swedish cloud service, we develop our own services and store all information in Sweden.
File submission with BankID
File submission allows you to collect and receive files directly in your Storegate account. All files you collect are stored securely on your storage space.
People outside the company who upload information and documents to your file submission do not have access to your Storegate account in any way. It acts as a collection area where you choose who can upload data. If you want to ensure the identity of the individual who will be able to upload to the file collection, you can protect the link with BankID. This requires verification before the recipient can upload information.
When you create a distribution of a folder with BankID, you must enter the name and social security number of the recipient. You can then send the link to anyone you want via email, SMS or with your Storegate account.
Ideal for collecting sensitive information
The time for manual collection of paper containing personal data is over. With Storegate, you can relax and collect patient data, job applications, student information or other sensitive information without any worry of violating laws like GDPR. With us, you get:
All information together
A service enabling file submission under Swedish law
Real-time access to collected files
Full control of your data