Collaboration tool
Collaborate in a Swedish cloud
Collaborating on files should be easy, whether it's internal or external. With Storegate, you get full control through permission levels and smart collaboration tools.
Work together, safely and securely in a Swedish cloud.
Simple collaboration tools
With Storegate, individual employees or large groups can work together on documents and share content both inside and outside your organisation.
You get a common space where everyone in your company can manage and edit files, share sensitive information and back up locally stored files.
We make it easy for you to keep track of your project or team documents and folders. Whether you are a private or public organisation, you are guaranteed Swedish and secure storage with GDPR support.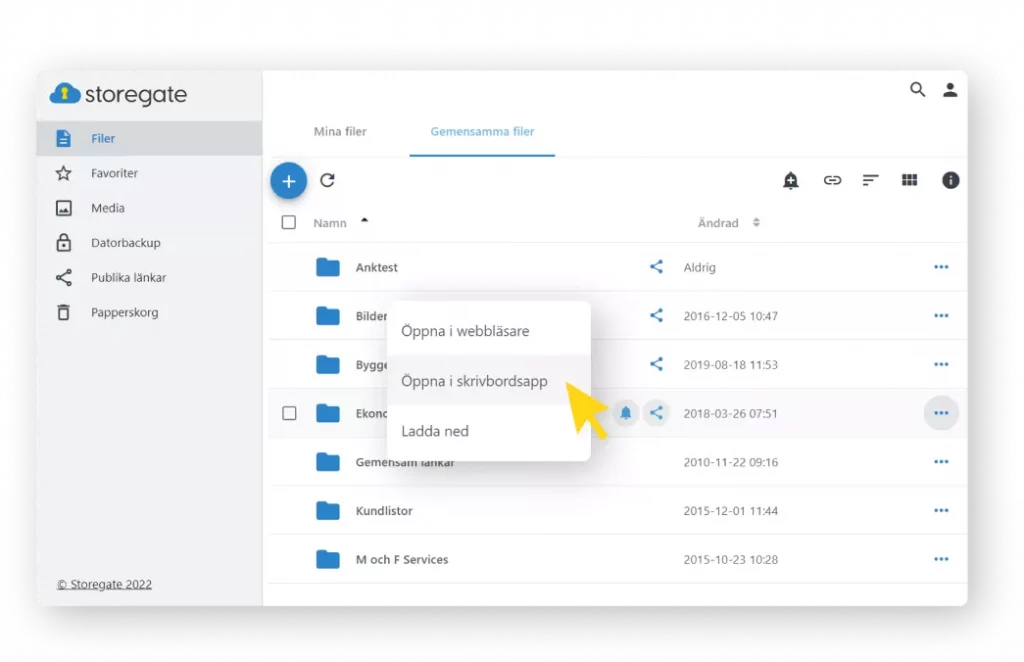 Storage in Sweden under Swedish law
As a Swedish cloud service, we develop our own services and store all information in Sweden.
Organize common files
To give structure to your company's storage and employees' handling of files, you as an administrator can create groups and assign specific permissions to employees. This way you can control that the right team or person has access to the right information. To help users find what they need, you can design folders based on the organisation's different work areas.
Version history allows you to keep track of all changes to one or more files over time. All changes made by the team are securely documented in the cloud.
Collaborate, edit and share content
With Storegate, smart collaboration tools are seamlessly integrated. Gather all your important files like PDFs, Microsoft Office documents and JPEGs in one place for secure and efficient collaboration.