Web interface
Secure and user-friendly cloud platform
Storegate gives you all the benefits of the cloud, including document storage and collaboration, secure file sharing, and personal and shared file space over the web.
Over 500,000,000 files are secured in our Swedish cloud service.
Simple web interface
Collect and organise your company's files and folders in one place. Whether you're working from home or the office, users always have secure access to stored information via the web interface.
You can easily log in to the storage area via any web browser and from any computer to access your company's files. The web interface is the central location for your account and there you can take advantage of smart features such as file sharing, version management, additional add-ons, camera uploading, etc.
Our Swedish cloud service supports Windows and Mac OS and there are also apps for Android and Apple iOS. In addition, the service can also be used by those who apply terminal server or remote desktop. That's what we call cross-platform - for real.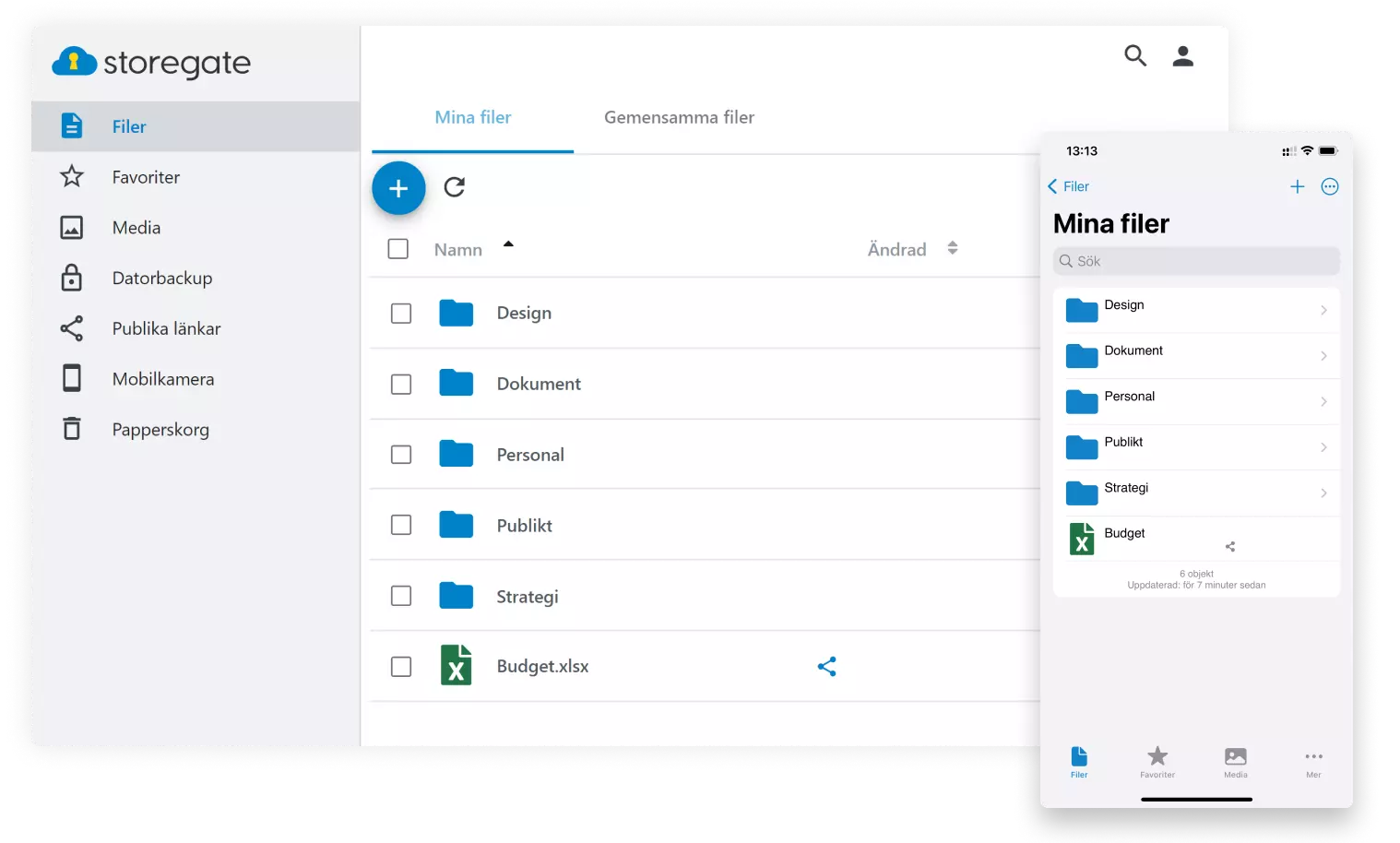 Storage in Sweden under Swedish law
As a Swedish cloud service, we develop our own services and store all information in Sweden.
Personal and shared storage space
With Storegate, you get a digital place for all your company's data. Instead of having scattered documents and using different services to share and collaborate on digital information, you can use our Swedish cloud service.
No additional software is needed to get started storing files on Storegate. Regardless of account type, anyone can store and edit documents in their browser.
Our Storegate Multi service offers two separate storage areas. My Files is a storage area for you who want file storage for your personal files and Shared Files is a storage area for shared file storage and collaboration with other users.
Improves your file management
Our cloud service has a simple and intuitive user interface that provides employees with the right tools to work efficiently. Our service is well integrated with Microsoft Office and on the web, users can work directly in the web interface as well as in their locally installed application.
As an administrator, you can manage global settings for your entire Storegate account on the web. In addition, you also have the option to upgrade storage or add new users and permissions. The web interface gives you an overview of the following elements: