Secure and protect files
Safety features
Discover several easy tools to secure and protect files. With Storegate, you stay in control of your information.
Protecting your data is our top priority.
Takes care of your files
Storegate is a good cloud service to keep your company's information secure within Sweden's borders.
We offer you several tools to protect your account against intrusion. With Storegate, you're safe even if something unexpected happens, such as users accidentally deleting a file or you being hit by a computer virus.
With us, you are guaranteed data storage in Swedish data warehouses, which makes it easy for you to comply with the GDPR.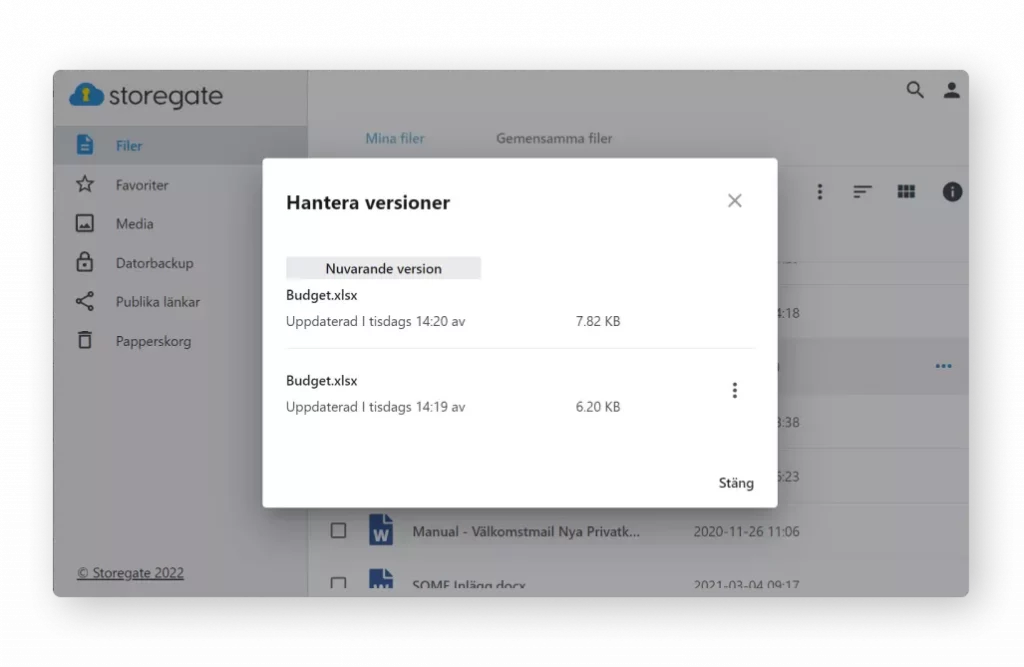 Storage in Sweden under Swedish law
As a Swedish cloud service, we develop our own services and store all information in Sweden.
Everything you need to secure and protect files.
File and version reset
Revert to previous file versions or restore deleted files.
Two-step verification
Protect your information and verify your login with an extra security key.
Encryption
All files stored in the Storegate system are encrypted with AES 256-bit encryption.
Event logging
The system logs all events and activities that sub-users have done on the account.
Assign permissions
Administer sub-administrator roles and permissions for users, Set read and/or write permissions.
Secure recycle bin
The service has a recycle bin where all deleted files are moved before you choose to delete them permanently.
Folder notifications
Notification is sent if a folder is updated, new content is added or edited.
Disconnect devices
Control which devices are connected to your account. Should you lose your computer or phone, you can easily prevent access to your account.
GDPR-safe
Storegate is a Swedish company that provides data storage in Sweden, making it easy for you to comply with GDPR.