Skanova is providing Swedes with fibre networks at a rapid pace. The company's 500 or so employees are constantly on the move, working from different locations - and wherever they are, they need access to up-to-date information about the projects they are planning or carrying out. Government targets require fast access to project documents
According to government targets, 90% of Swedish households and businesses should have access to fibre by 2020, and Skanova's 3,000 or so technicians (employees and subcontractors) are out in the field to make the target a reality. Skanova is a wholly owned subsidiary of Telia Company and is tasked with operating and building networks across Sweden. Today it has the largest open fibre network in the country and reaches all municipalities in Sweden.
The high speed of deployment, as well as the number and size of projects, generates vast amounts of data and information. In order to keep administration and construction running as smoothly as possible in the 80 or so projects that are in operation, Skanova was looking for a simple and user-friendly cloud service. With 600 users and thousands of documents, a solution was required that everyone could understand and that allowed for advanced permission control of information and secure encryption via all protocols without cumbersome VPN tunnels. Storegate was chosen for several reasons.
Storegate's services are ideal for us because of the high level of security, data is stored on servers located within Sweden's borders and not locally on each user's computer. In addition to high security and smart features, we needed a provider who understood our needs and could help us find the right solutions. Storegate is also a respected brand in our industry.

Richard Runnedal, Construction Manager at Skanova.
Skanova's working environment demands high security standards and the company has a strict security and privacy policy, which also needed to be matched by a stable supplier. When many users need constant access to information, a Storegate cloud service is suitable because data does not need to be stored locally in devices used on the construction sites. Should a device be stolen, access to the information is immediately blocked, giving the client added peace of mind that files will not be compromised.
The fact that Storegate's servers are located on Swedish soil in Sweden and are subject to Swedish law provides extra security when handling personal data or other sensitive information. The data halls are of course security rated to the highest level in terms of fire, intrusion and power supply.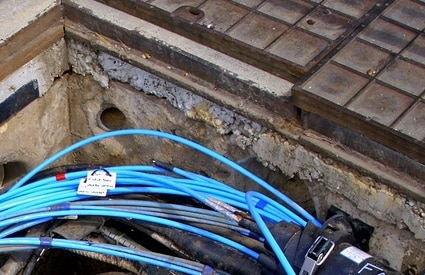 Our services have proven to be a good fit for construction projects in general but Skanova's projects in particular," says Torbjörn Lindkvist, Business Area Manager for Storegate Services. Our intention is to work closely with Skanova as we do with all business customers and provide them with the products, service and knowledge they need. Since we have been involved since 2003, we are good at finding solutions that meet our customers' needs. Our system is fundamentally very flexible and adaptable, so we solve most of our customers' needs.
A Swedish cloud service for business files
Does your business also need a GDPR-secure cloud service? At Storegate, we make it easy to store, share and collaborate on files. In our Swedish cloud service, you can manage sensitive data and personal information without worrying about transparency and the influence of foreign laws. You avoid the uncertainty that comes with foreign cloud services and can focus on your core business.
We can help you with a solution that suits your business, contact us and we will tell you more!