Synchronize files
Sync files between your computer and the cloud
See all your files while working offline. Storegate Sync gives you a folder on your computer that synchronises all your files with the cloud and other devices.
Sync your files, folders and various devices to a Swedish cloud.
Poor Wifi connection? No worries
Do you enjoy working location-independently? That is, from home, on the train, in a café or in a place without WiFi? With our Storegate Sync software, you can access all your files even when you're offline.
You can choose which folders and documents you want to continuously synchronise with the cloud. No matter where you are, you never have to worry about not having access to your information.
When files are in the cloud, they are accessible to many different devices and platforms. The Storegate Sync application is perfect for those who need to work remotely without a good internet connection.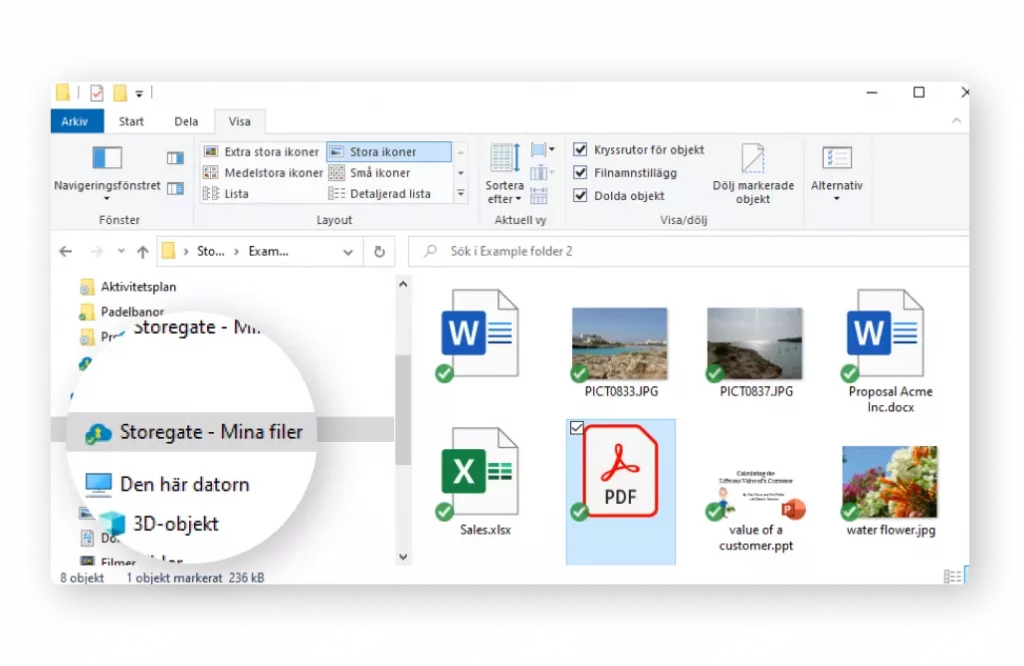 Storage in Sweden under Swedish law
As a Swedish cloud service, we develop our own services and store all information in Sweden.
Work remotely
Efficient remote working requires good tools, and with file synchronisation you can always access all your files and folders no matter where you are or what device you are working from.
Through a smart and easily accessible folder in the explorer/finder on your computer, your various devices and platforms are automatically synchronised with our Swedish cloud service. This means that the files are available both locally on your computer and on your Storegate account.
If you have limited space on your computer and you want to avoid syncing all the files in your account locally, you can do this by selecting which files/folders to sync to your device.
How does Storegate synchronize files?
At Storegate, we use cloud storage to sync your files to a service where all data is stored in Swedish data centers.
No matter what device you use your Storegate account from, all your files and folders are there. Your files sync with the cloud every time you connect to Wifi.
Once you have uploaded the file to your account, you can access it there at any time. A safe and good security in case files get lost or you accidentally delete a document from your computer. Keep in mind, however, that synchronisation does not count as a backup service.
Sync or work directly in the cloud?
Storegate Sync:
+ Files are available Offline
+ Does not require WiFi connection
- The files are synchronised with both your local hard drive and the cloud, which means they all take up space on your own computer. If the files are large, your computer needs to have as much space as the cloud service.
Storegate Cloud Folder:
+ Doesn't take up hard drive space on your computer
+ Files save directly to the cloud
+ Perfect for collaborating on shared folders and files
- Less good if you travel a lot and have limited internet access.